Below is the post that I put in my journal about my Boundary Waters trip. So it's crossposted and all that.


As my earlier posts indicated, I spent a lot of time packing for this trip, multiple hours in the cities and multiple hours the night before we left up in Wrenshall. Well, I finally had everything packed. We got up at 4 in the morning and were out the door shortly thereafter. Since things mysteriously disappear at the Peterson/Fistler/Carlander ranch, we had to stop and pick up a life jacket for Burnell. Well thank god for Wal-Mart. *shudder* Did you know you can get life jackets for $5? Amazingly, it was made in the U.S. too! I wouldn't normally go there, but sometimes practicality overrules political feelings. I just want to say that Wal-Mart at 4:30 in the morning is an interesting place.

We got back in the car and drove the two-plus hours up through Ely and up the Echo Trail to our entry point at the Stuart River. I was reluctant to go in here since the first portage is over 400 rods (1 rod = 16.5 ft.) and 'cause I didn't like the paddle through the river when I went in the summer of '01. Yes, we paddled for eight miles or so before we got to the lake, but it was much more scenic than I remember. It was very enjoyable, especially with Burnell's company. He's got intersting things to say.

This is Burnell kicking back (he's good at that) at the top of one of the river portages.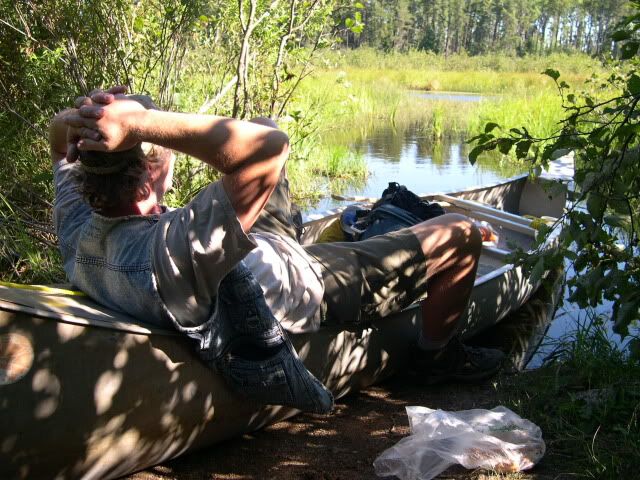 This is at one of the portages looking out at the river. There are few shapes as pleasing to the eye as the outline of a canoe. This is true and can not be argued.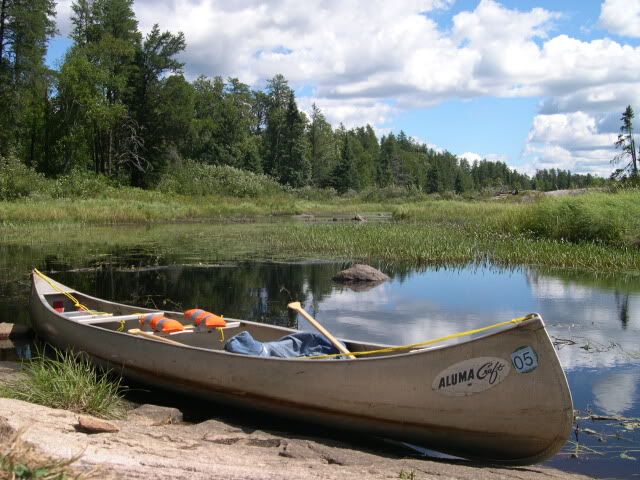 This is at the bottom of Stuart River where it empties into Stuart Lake over a waterfall. Notice that Burnell has found another good place to recline.



Stuart Lake was as far as we went the first day. As the Forest Service only allows one group into Stuart each day, we had our choice of camp sites. It's kind of funny, the only thing I remember about Stuart from my earlier trip was the wind and waves. Our group of three canoes got very spread out as we all battled the waves. But everything was calm this night. We set up camp, took naps, read books, ate dinner, and went to bed after I spent some time dragging fishing lures through the water looking for fish that were smarter than I am.

The next day we didn't have far to go as we were going to meet up with Joe and his friend that night. This is on Rush Lake on our way to Iron. It's a pretty little lake with a couple islands.



It turned out that Joe and his friends (Joey, Steve, Quinn, and Jason) had actually arrived the previous night after a long paddle instead of arriving this night. We got to the camp site, and were passed some booze and tobacco. After a swig, a smoke, some talking and getting our gear out of the canoe, we all did a day trip to Curtain and Rebecca Falls. This picture is on the way. Gunwale lovin'. Awwww, yeah.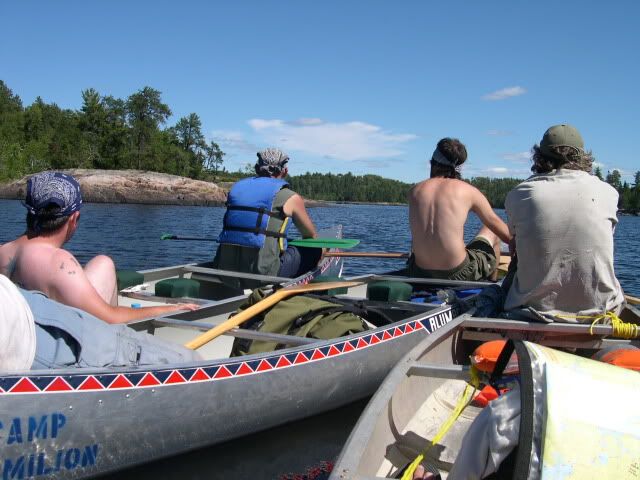 The following four pictures are of Curtain Falls. Curtain is the largest waterfall that I am aware of in the B-waters, but the water was much much lower than the last time I was there. I was also surprised to see some young women sunning themselves on the rocks at the top of the falls like we were at Lake Calhoun or something.
From the bottom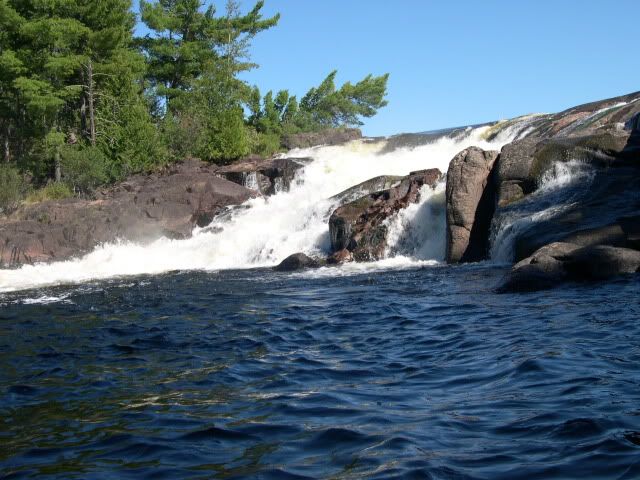 From in the middle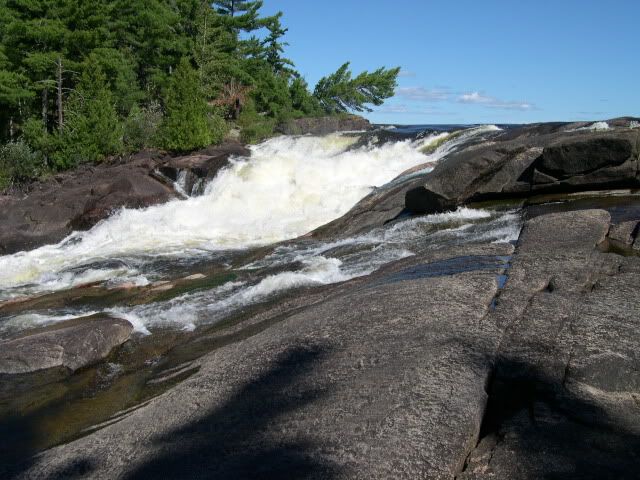 Silly girls and Crooked Lake emptying into Iron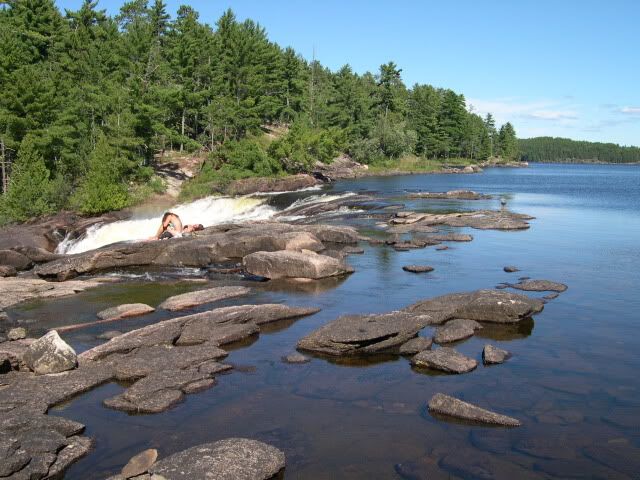 From the top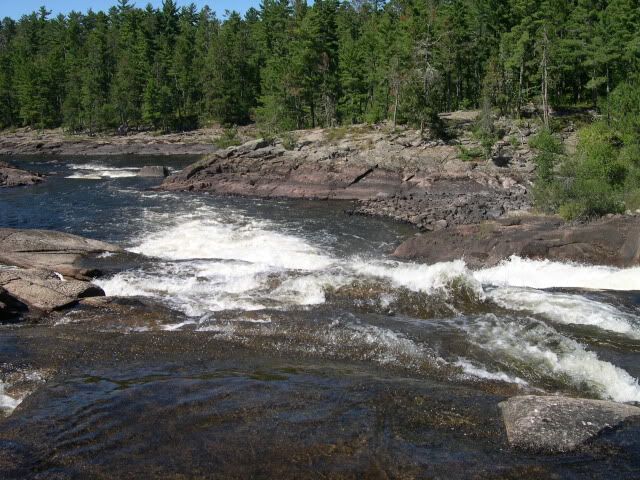 This is one side of Rebecca Falls, where Iron empties into a river in the Quetico, only a mile and a half from Curtain. I was disappointed to see how low the water was here. The picture really doesn't do the scene justice, with the inclined rocks. It's one of my favorite places in the B-waters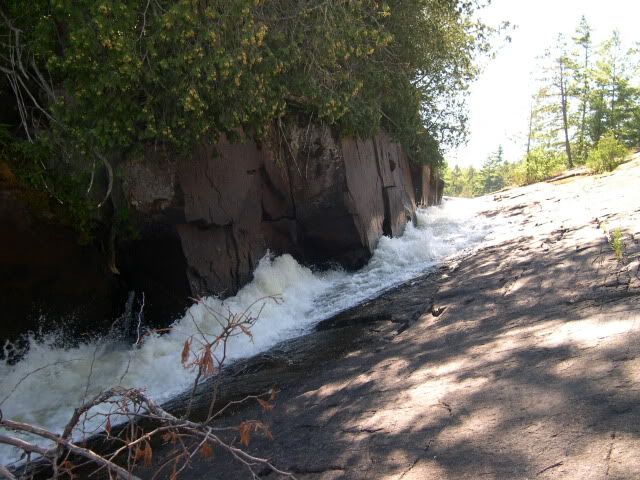 Joey was the first of us to put on two life jackets and jump into the couple standing waves at the bottom of the falls. That was fun.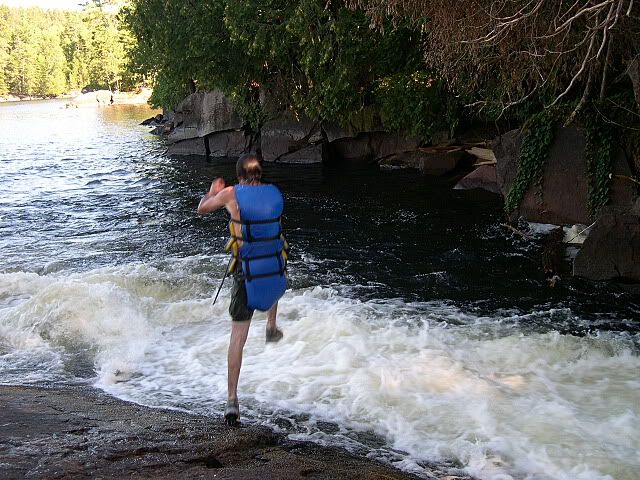 This is Rebecca Falls on the other side of the island, where the water was much more cool looking. Unfortunately, without being in a canoe, it is hard to get a picture of the whole set of rapids.



B and the falls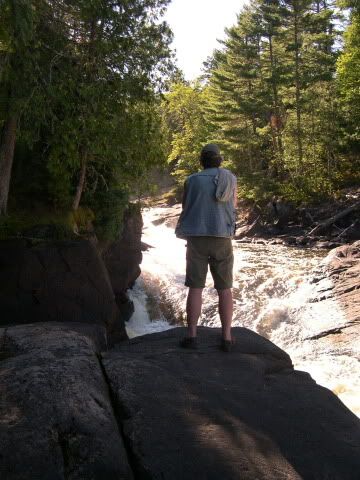 Me and the falls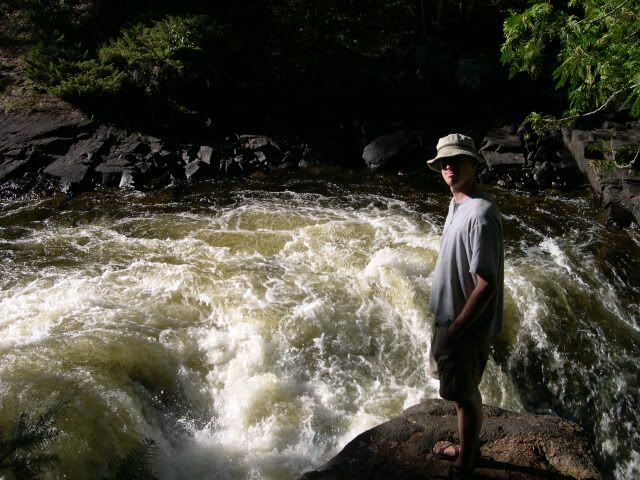 Joe was wearing a blaze orange Stihl bill cap. I thought it was amusing, none of his friends liked it at all. While going to get water, one of them quietly swiped it and put it in a bush on the island just across from our camp site and then said, "Hey, what's that over there on the island?" It stuck out like a sore thumb, yet Joe didn't see it for a while. Pretty funny.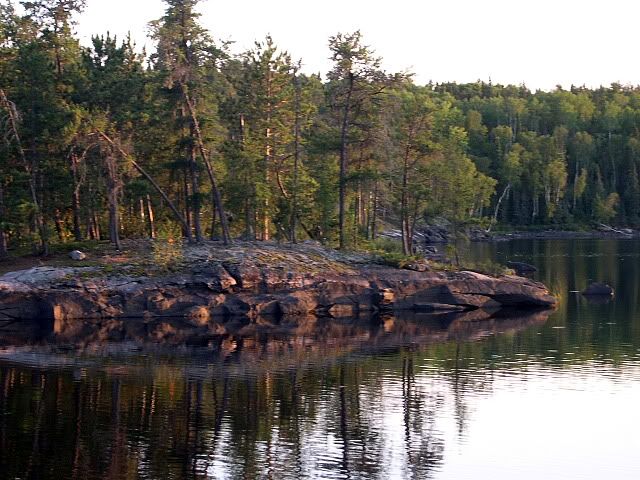 That night, we finished a bunch of rum, vodka, bourbon, smoked pipes/cigarettes, and had dinner. Bear Creek soups are really good, and the Minestrone is even better with camp-made dumplings. Yum.

I can't say that I slept very well any of the nights up there. I just couldn't get comfortable, so I got up before sunrise and took some pictures around the camp site.



Pink flowers and a cool pattern (lichen?) on a rock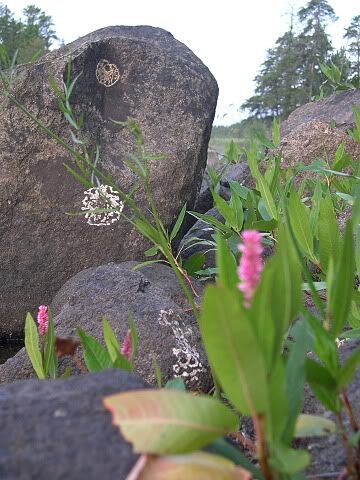 I love moss beds. It's one of my favorite things up there.



This little breakfast... errr... bird was hopping around the fire grate. It made me smile.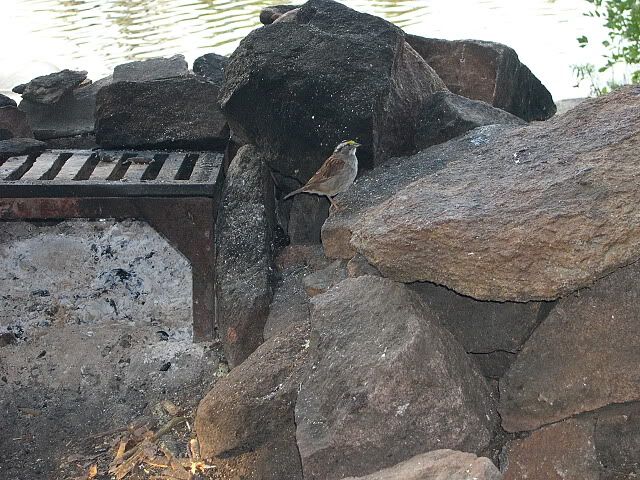 A cheesy goodbye while Joe was on the latrine. Let it fall, Joe.



A portage to Lac La Croix



I was puzzled to see a big pond that was definitely not marked on my map.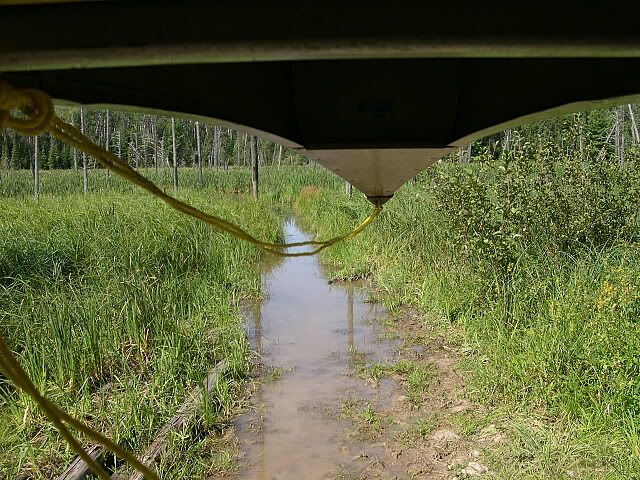 Burnell loading up with the pack, and the home of the culprits behind the mystery pond in the background.



This is an unexciting picture, but is an illustration of how low the water was. Normally, at the end of the rocks, where my pack is, would be pretty wet and where you would put your canoe in if you were finishing your portage here. You can see all the mud though way beyond there. We almost couldn't make it through the mud that is sticking up out in the water. That would have been less than fun.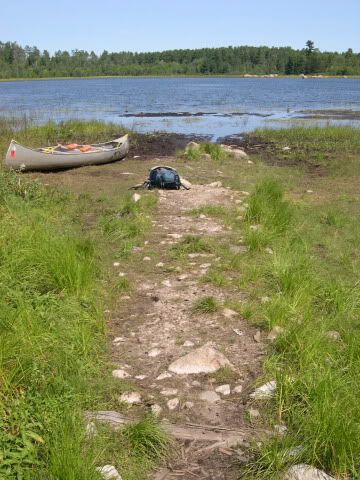 Water was really low. We saw a high water line from this spring (a line of pollen) on rocks that was at least three feet above where the water level was on Iron Lake. I was kind of surprised that we didn't have more trouble due to the low water than we did.

We were going to go a decent distance our last day out and get to Ramshead Lake since Nina Moose and Agness are a throughway between the Echo Trail and Lac La Croix. The Forest Service allows seven groups to go in there each day, so finding camp sites on Nina and Agness can be a hassle sometimes, despite the 18 or 20 sites between the two of them. Ramshead is off to the side of Nina and there is a 200+ rod portage and a 100+ rod portage to get there and out that keeps most people from going in there. I wanted to go because it would have been new water for me, and because we could be guaranteed a camp site.

We got into Agness early in the afternoon and were looking a place for lunch when we found an open camp site. We certainly could have pushed on, but naps and reading was pretty tempting, especially since it wouldn't be a difficult paddle to get out the next day even if we stayed... so we did just that. I used to stay on Agness quite a bit with canoe groups and I would get them up at very early o'clock in the morning, so we could get into the Nina Moose River to hopefully see some moose. I saw moose about every other time we tried that, plus paddling through that river with the mist rising up, lit up all golden by the first rays of sun is fantastic.

This is Agness, just before sunrise.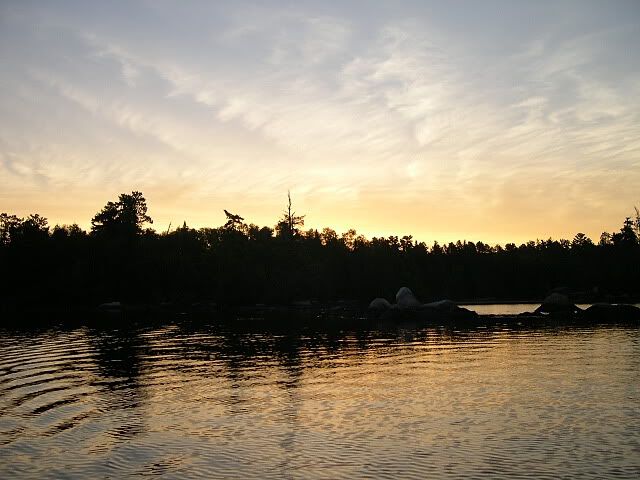 The Nina No-Moose River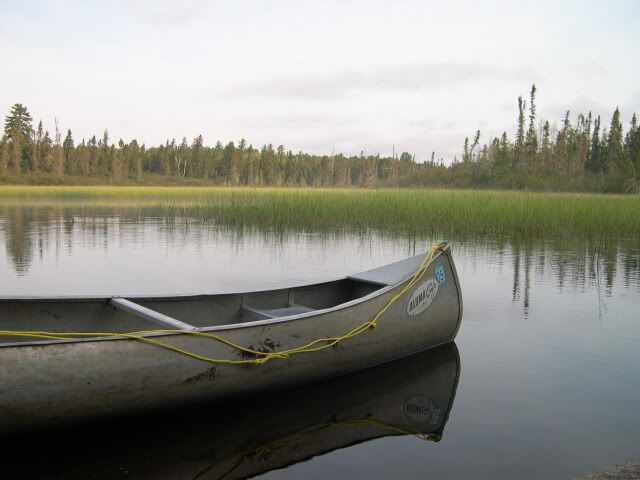 We paddled into Nina Moose Lake, stopped for some breakfast and a pipe on a sandy beach before crossing and starting the last leg of the trip. A mile or so upstream of the lake is Top of the World Rock. It's not as tall as Warrior Hill in Canada, but the view is still worth the climb. Earlier in the season it is covered in blueberries too. The next three pictures are on TotWR.

Took a picture here while fiddling with the timer on the camera. Oops.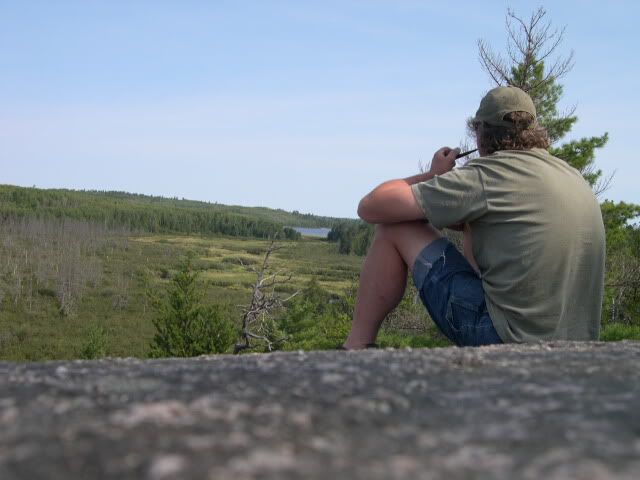 Nice view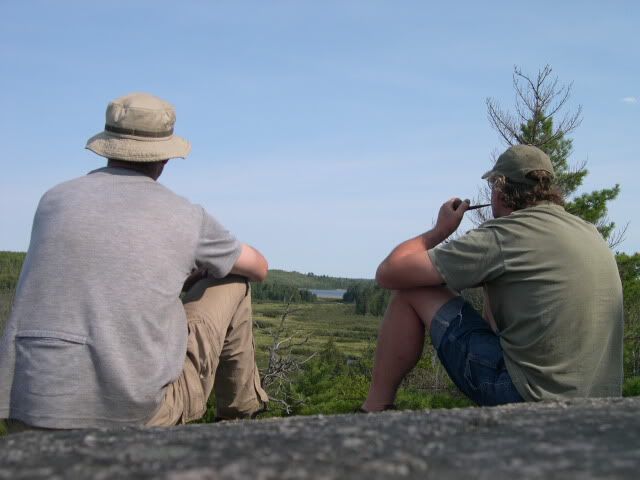 A canoe going by below us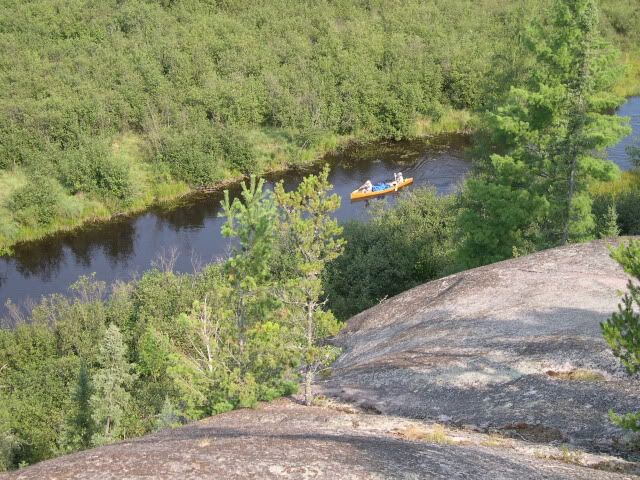 No real voyageur is without his pipe. It's true. Guys who were inspired by the picture of Piragis Outfitters in Ely aren't without their pipe either.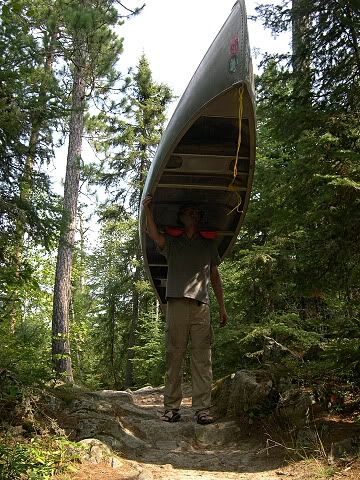 We packed up and made our way back to Ely for a beer, some food and pie before heading back to Wrenshall. That was a great trip, short but great. I can't wait to go again. Sarah, I'm looking at you.


Simple pleasure - looking at my maps
peace